Gift Ideas 2018
Some of the people I've most loved coaching have come to me through gifts, and so many of my friends are genius healers and makers
— here are some ways to connect those you love with us this holiday season or anytime!
Let me tell you what's next.
Vital Coaching uses time-tested, inquiry-based techniques including deep storytelling, tarot, and exploratory writing to get to the beating heart of the situation and figure out the next right thing. We pinpoint the essential question, gather information, explore practices to clear away barriers and establish forward momentum, then reflect on changes and build from there -- getting out of disconnection and distraction and into a focused, enlivened, VITAL life.
Let Claire cure what ails you.
What ails us all stems from the same root cause- there are energetic blockages creating imbalances in your system. What if I told you we could remove those blockages and help bring you to a better version of yourself?
Using acupuncture and SourcePoint Therapy™, Claire will help you feel your best, feel balanced and centered, with the potential for growth and expansion. This is whole-system healing, The range of issues that can be addressed are vast, from infertility to arthritic or physical injuries to "I just don't feel like myself these days."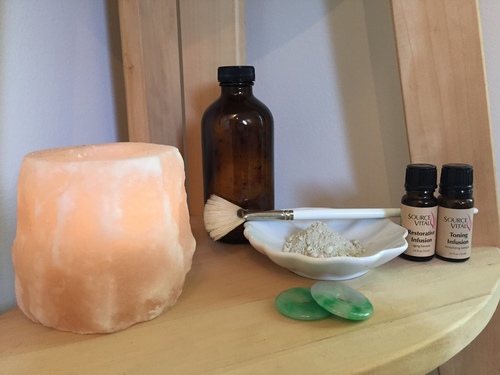 customized facials, energy work, and more
Holistic Esthetics with Vanessa Love
Love the skin you're in. It protects you from pathogens, is your largest organ, and literally holds your body together. Facial treatments with Vanessa include customized products, scalp and hand massage, optional energy work with a focus on hydration, detoxification, and energizing the skin.
100% Unique Gifts
Madre de Perla Designs offers one-of-a-kind, upcycled and handcrafted accessories that celebrate the Caribbean culture and diaspora. MDP Designs is rich in intent, legacy, symbolism and storytelling. One walks away with more than a product; one walks away with a purpose.
Handcrafted jewelry handmade in Portland, Oregon.
Made with ethically mined gemstones, recycled silver and gold, and painstaking care, the jewelry Naomi Campos creates shines in any environment.
These fluid, wearable compositions capture Naomi's passion for the endless beauty of the earth and ocean. The clean yet delicate designs are constantly evolving and instantly recognizable as Yedomi unique.
For the coffee snob on your list
Take the hassle out of ordering coffee. You decide how often you want coffee sent, and Gaslight Coffee will send a 12oz bag of the coffee they think tastes best that week straight to your gift recipient's doorstep. USPS First Class shipping is included in price.
For anyone on your list needing some cozy (and a little angry) comfort.
The gift speaks for itself — uterus-shaped and uterus-themed heating pads. These hand-made microwaveable heating pads, are scented with lavender and screen printed with water-based ink on cotton fabric. Hand-made in Chicago!
Aloft is Chicago's premier teaching, training and performance space for the aerial and circus arts. Located in a 109 year old church in Chicago's beautiful Logan Square Neighborhood, Aloft features 6000 square feet of studio space, making it the third largest in America. Aloft provides adult neophytes (and kids, too) the opportunity to explore aerial and circus disciplines in safe, challenging and fun classes, as well as professional performers with a training facility that meets their technical, developmental and creative needs. Classes at Aloft will challenge you mentally, physically and emotionally, but as you see your confidence, muscle tone and flexibility grow, you'll realize you're getting a workout like you couldn't get anywhere else! The training you'll get at Aloft is personalized and intensive. In our small classes you'll be in the air more than on the ground, quickly developing strength, confidence and independence.
Let Dorie take your loved one's yoga to the next level
Have someone on your list who has wanted to get into yoga, but doesn't want to jump into group classes right away? Or a yogi looking to refine their practice?
Dorie offers Small Group and private lessons focused on providing individualized attention in any practice that they are interested in expanding, Whether it's vinyasa yoga, the bowspring method, spiritual practice, meditation, breathing techniques or self-improvement.